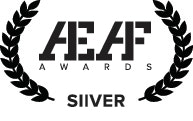 Directed by Glassworks Creative Studio's own Hugo Rodriguez and produced in eight weeks with a remote setup, we couldn't be prouder of this interdimensional journey. The film brought together our team of pan-national talent, translating Alvaro Sotomayor's story into psychedelic visuals that capture Khruangbin's vivid musical aesthetics.
Hugo Rodriguez, "Alvaro had a clear idea about a kid walking in the middle of the desert and traveling through different worlds. From here and then from what I understood listening to the lyrics we started building our world. We internally trained some of the team to work on clean-up, as well giving a sequence to the Wieden + Kennedy studio to have fun with and literally got all the hands we could, even asking musician friends to record videos for hand action reference! We all felt lucky with how much room we had to explore the visuals and develop the style".
The AEAF award win follows Glassworks Creative Studio's success in the Dutch Creativity awards just over a month ago.
Glassworks' producer Belen Palos, "these are the kinds of projects that make the team happy. With the basis of Alvaro's amazing story and a great song, an incredible team brings to life a beautiful animation. Everyone involved in the whole process, every member of the team, has given their all, creatively and otherwise.
The project came about in bleak times, but suddenly we were all involved in this colorful, psychedelic journey, and everyone was doing what they do best AND with gusto! A joy to produce, truly!"

Watch the film here: Pelota - Khruangbin